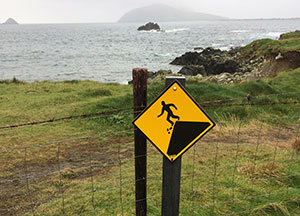 I did it, I spent three weeks in October 2016 getting lost in Ireland. What follows is a travel journal/website of my adventures.
On Saturday, October 8, 2016 I left for my second trip to Ireland in just over two years. However, this time I was traveling by myself and had to do all the driving. You get a crash course on driving when you leave the airport and hit your first roundabout within a mile of your start.
I need to back up just a bit, my day started out in rainy Chicago where I flew to New York Kennedy Airport and spent just over three hours waiting for my transfer. I put this time to good use watching the beginning of the Cubs play game two of the NLDS while sitting in the airport. I did manage to even follow the box-score on the plane. I am happy to say every game I watched the Cubs during this magical postseason they won. Why were people stressing?
I did take some heat for traveling while the Cubs made their historic run. What were the odds the Cubs were going to get to and let alone win the World Series. I did enjoy getting up and listening to all the games while I should have been sleeping.
So I flew overnight and landed in Dublin at 10 a.m. local time. Having not slept at all on the plane I was more than ready to get behind the wheel of my rental car and drive six hours to the North. I got in the car and then I realized I was sitting in the passenger seat and had to get back out and get in on the other side. Driving this diesel car on the left side of the road took a little getting used to on this sunny Saturday morning.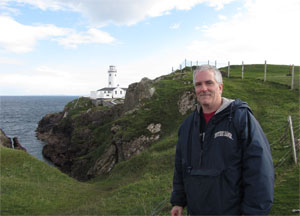 Once I got on the expressway and headed North I was really getting into driving and was a bit over confident when I hit road construction. This was not road construction I ever saw before. Instead of closing a lane or two they shut down a major highway and I had no clue where I was. I suddenly realized I was not going to see Belfast that day (original route) since my GPS was trying to get me back on the closed expressway by taking me down roads that were more like paths. I had to backup and pull over into the brush along the side of the road many times to pass people and livestock. After more than an hour trying to get back to my destination I decided to call an audible and head directly to Bushmills and bypass the scenic route for my driving sanity (kind of my route minus the two hours I was lost). It took me about six hours in total to get to Bushmills and was ready to never get back in the car. I didn't for two days - choosing to walk several miles rather than drive.
The following pages are setup in a chronological order and does not include transition days where I fought what felt like a losing battle of traffic navigation.
This website is best viewed on a desktop computer. Click on the thumbnail pictures to view all the pictures as a slideshow.